I am called to dedicate myself to God in this environment of common life. Here, I have met people coming from other parts of the world, not only in my country but also elsewhere, which I have never known. Although we have different in languages, cultures, customs, homelands, we are gathered together by the call of Jesus. From here on, we can form a new family, sharing many things together. Despite our differences, we still live together and consider each other as a family. Maybe we are different in age, education, position, job, but there is not anything more valuable than the other. Here we live as a family, where everyone cares for each other, can ask questions, share and help one another and most of all pray for each other.
My impression is that each time we recite the prayers, have our adoration, eat a family meal together are beautiful moments of our time in community. I feel happy and at peace. The sisters' corrections and sharing motivate me to be drawn closer to God. Each Sister is a unique gift of God for me. I love my present life here, and I cherish each member of this family. I always pray to God for them. I am grateful to God for the joy and peace we share. In this small flower garden of the Church, I feel happy to be one of the lovely members of this family.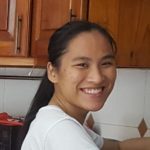 For a fresh graduate who is facing life's many choices… I am most grateful to God for He has been taking care of me and for guiding me in this journey until I began finding my vocation in the Religious life and decided to enter the Capuchin Tertiary Sisters of the Holy Family. 
New life – changes, challenges, difficulties, cultural and language differences in each member of the community, but all these worries were completely gone when I started to live here. Since I live here, my relationship with God became stronger. I am closer to Him, to meet Him every day.   The hours of prayer and adoration help me to be more united with Him and helping me to have more strength to steadily take steps forward. I am thankful to the sisters for my spiritual life is supported and is much better than before. I feel the peace which I haven't found when I was outside. Living here is like a family that one feels the kindness and help, the simplicity in every meal and work, the joy in sharing everyday stories.  My experience of living here is the joy and simplicity in everything bearing the Franciscan spirit.